Greg
@reflectedsimulations
We are pleased to feature Greg from Reflected Simulations, a 3rd party campaign developer for DCS World, a study-level flight simulator.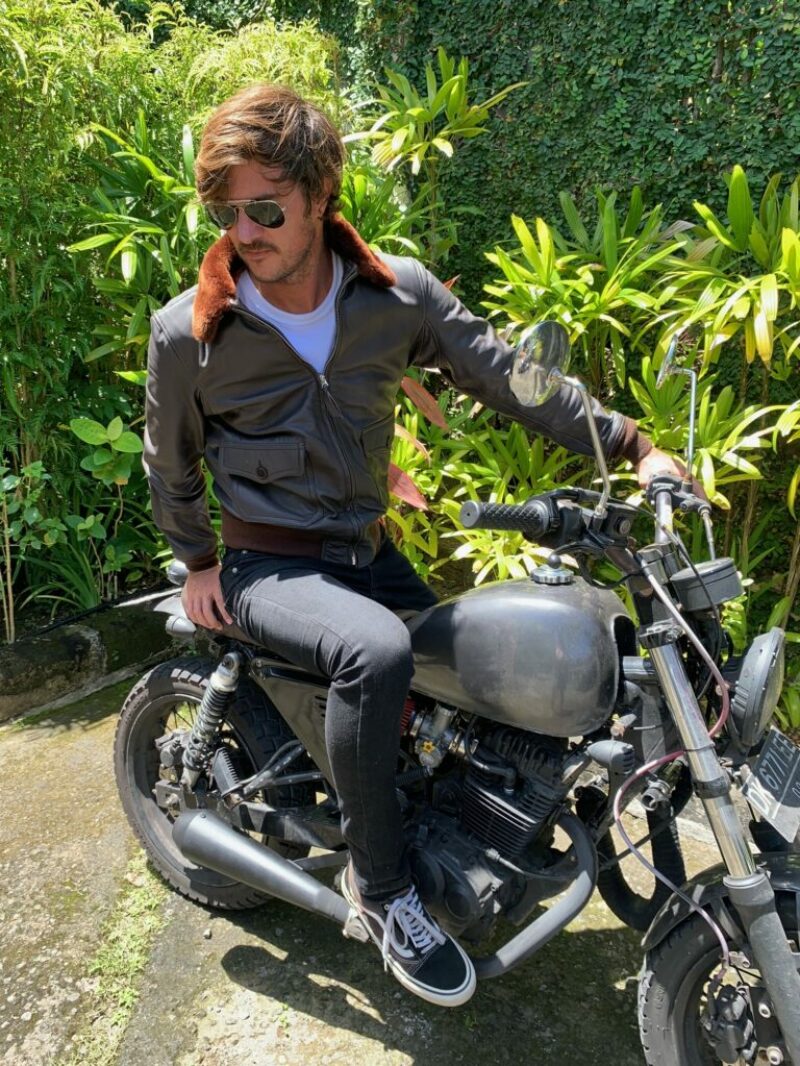 Can you tell us more about yourself?
I'm Greg from Reflected Simulations, a 3rd party campaign developer for DCS World, a study-level flight simulator . I write and program storylines so that players can re-live historical events in the virtual world, in the most realistic and immersive way that technology permits today. I've been crazy about aviation since I can remember, I'm a licensed glider and motorglider pilot (FAI D badge). My other passion is surfing, so I travel around a lot, chasing that perfect wave. I sometimes perform as a singer-songwriter, Oh, and I'm a jacket collector!


Tell us about your style and where you find your inspiration?
As I said, I've always been obsessed with flying, so it's no surprise that  flying garments and the style of fighter and bomber pilots inspire me. Despite having quite a modern job, I still consider myself an 'analog guy', my friends often say I was born in the wrong decade. I especially admire the style of WWII pilots and I've always been looking for ways to implement that look into more contemporary outfits. You can't wear a crusher cap in the street, but, say, an A-2 jacket goes very well with jeans and a T-shirt too. AVI Leather fits that bill perfectly. I'm too nitpicky to just wear 'lookalike' jackets, I appreciate the little details, the shape of a collar, a pocket flap, the color and texture of horsehide or goatskin, and AVI jackets are carefully copied from originals. They're still reasonably priced though – I wouldn't necessarily pay a grand or more for a so-called 'high end repro' that may be even more accurate, but I would be afraid to wear it, and that would defeat the original purpose of these garments.


How do you use social media?
As 'Reflected Simulations' started growing, I started thinking about how to communicate with the players, because until then I relied only on DCS sharing info about my campaigns. So first I started a Facebook page, then an Instagram, and nowadays I'm focusing on my YouTube channel. If you build a good brand name and channels that people follow, and appreciate, then you have great tools to communicate with your audience. This way I can share info about upcoming projects, promote existing ones, or offer help to the players by posting tutorials and playthrough videos. Building a self brand also helps when releasing new products: people associate it with the quality and their experience with your existing ones.


Which places would you recommend to visit?
My favorite place to be is Indonesia – it's a magical country, the land of the Endless Summer. Water's warm, the waves are dreamy and the people are kind. A very different vibe from the Western world – in a good way. Life there seems much slower and in the present. No stress, no social expectations to chase, just appreciating life itself. People are much happier. There are thousands of islands, and you can't really go wrong with any of them. My favorites are Bali, Roti, and Sumbawa. If you're there, be sure to try the local food. Fried rice or noodles, or my favorite: Sate Ayam: chicken skewers with sweet peanut sauce.