Jeroen
@ruggedrookie
We are pleased to feature Jeroen from The Netherlands.  Today, he will be telling us more about himself and his passion.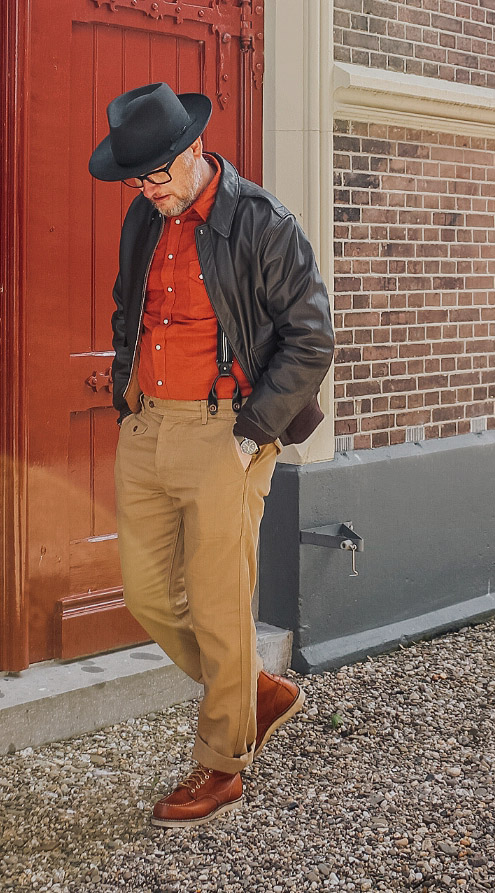 My name is Jeroen. I'm 50 years old and live in a village, called Pijnacker,  between Rotterdam and The Hague with my lovely wife and son (8) and daughter (6). I work as a business partnership developer for UNICEF The Netherlands.


I like to do home improvement projects, darts and cycling are other hobbies. Other interests are strolling along flea markets and thrift stores, music and outdoor activities.
For years I liked to invest in quality and sustainable clothing. But just recently I discovered the heritage and rugged style. I have been hooked ever since and try to explore every corner of it. So many people inspire me, because there are so many styles possible. But to mention a few: @cuffington, @thomas.wijk_, and @sel.vage.
Leather jackets are relatively new for me, so AVI Leather is a great start for me. Your A2 flight jacket is a great classic for my wardrobe.
Social media is nothing more than an infotainment tool for me. Of course, I had my fair share on FB at first, basically to share snapshots of my life with family and fiends. Now, I am much more selective and use it for real conversations with like-mindeds. Instagram gave me a platform to combine my love for photography, rugged style and connecting with others.
In my rookie year, I came across so many inspiring accounts. But @leindersjo helped me a lot during my babysteps. I also love the style of @sel.vage, although sadly he did not post for over a year, now.
The clean shots of @niftee_thrifteee made by his wife @robinclairefox are something else.
Finally, I would like to  mention @Nordfolke and @thomas.wijk_ . Their journeys through the rugged outdoors take me on a digital journey and life that I secretly envy.